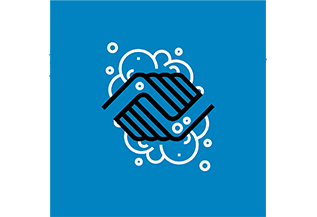 ---
Friends,
It's no secret pandemic fatigue is affecting our entire community, especially our youth. It seems every day there is a news story about burnout, and we have more behavioral issues than ever before at our Clubs. So when our Eastside Terrace Clubhouse Director, Greg Cowan, approached me about a creative way to motivate his members to get back on track, I listened.

"It takes 21 days to create a habit." Greg explained, "I want our older youth to take this opportunity to see how their actions as leaders at the Club can create a happier, more inclusive, and safe space for all youth."

The idea was pretty straightforward: Youth would receive points each time they exemplified character, community, and leadership. His dangling carrot? Those with the most points would shave his head!
Three weeks after the start date, Greg kept his promise, and the Club's newly minted role models had the chance to take a pair of clippers to his head. The energy in the room was palpable. You could feel how proud the kids were of their accomplishments, the admiration from their younger peers, and the excitement to cut Greg's hair!
You make moments like this possible. It's been another challenging year, but your unwavering support has helped us keep our doors open and provide mentors who uplift youth in their time of greatest need. When kids have Clubs, and Clubs have you, tough times can lead to great moments.

This Thanksgiving and always, thank you for the moments you've made possible for kids and families in our community. We are so grateful you are part of our Club family.

With gratitude,


Tim Motts
President/CEO