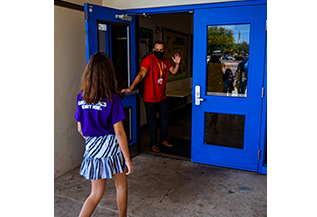 ---
Boys & Girls Clubs of Bellevue is open for essential workers and vulnerable children, providing three meals per day, during COVID crisis
Bellevue, WA - March 18, 2020 - Boys & Girls Clubs of Bellevue (BGCB) is responding to the critical needs of the community during the COVID-19 pandemic by extending hours at its largest, most-well equipped sites to provide childcare and up to three meals per day for essential workers and vulnerable children. As a childcare provider, the organization qualifies as an essential business under the Governor's 'stay home—stay healthy' order.
"For nearly a month, we have been working in partnership with Bellevue School District to continue serving the youth who need us most," said Tim Motts, BGCB President and CEO. "When diseases like Coronavirus COVID-19 enter our communities, the unintended consequences disproportionately affect our most vulnerable community members. While 90% of Boys & Girls Clubs across the nation are closed to kids, we are committed to keeping our doors open and expanding our services to best serve the needs of our community."
The organization is strictly following the Centers of Disease Control and Prevention and King County Board of Health's guidelines to ensure safe and healthy environments for all participants. BGCB's Downtown and Hidden Village Clubhouses are open from 8 a.m.—6 p.m. A Club membership is $40 and childcare is just $50/week. As always, scholarships are available for those who qualify.
In addition, thanks to a generous donor, BGCB has partnered with T-Mobile and local businesses, Bis On Main and DELelectable BBQ and Catering, to distribute 550 free dinners each day to the community. Meals are served Monday-Friday at 4 p.m. at their Downtown, Hidden Village, Eastside Terrace, and Spiritwood Manor Clubhouses. This unique partnership simultaneously combats food insecurity and supports local small businesses.
The community can support BGCB during this unprecedented time by donating critical funds at www.bgcbellevue.org/donate, cleaning supplies (wipes, cleaning sprays, paper towels, masks, glove, etc.), or grocery store gift cards for our families. To register for programming, visit www.bgcbellevue.org for more information.
XXX
About Boys & Girls Clubs of Bellevue
For nearly 70 years, Boys & Girls Clubs of Bellevue (www.bgcbellevue.org) has inspired & enabled all young people, especially those who need us most, to reach their full potential as productive, caring, and responsible citizens. BGCB's 15 Clubhouses provide a safe and fun place for more than 12,000 youth to grow and thrive each year. During critical out-of-school hours, dedicated staff delivers life-enhancing, quality programs focused on academics, health, and leadership. BGCB is doing whatever it takes to ensure all kids in Bellevue have great futures. Learn more on our Facebook page.
Media Contacts
Maggie Sliney
Boys & Girls Clubs of Bellevue
425-777-9123 | msliney@bgcbellevue.org