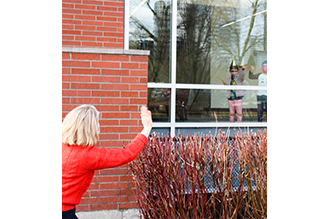 ---
Please join us and welcoming our new Board Chair, Jane Boulware!
After joining Boys & Girls Clubs of Bellevue's Board of Directors in January 2020, it didn't take long for Jane Boulware to get involved in Club activities. Within days, the experienced C-Level executive served as a judge for BGCB's Youth of the Year competition at our Lake Hills Teen Center.
When Jane walked into the Teen Center for the first time, she was blown away by the number of kids, full of energy and laughter. With so much positive energy, she was not quite prepared for the speeches that our teens presented that night. They told the story of neglect, fear, and uncertainty. They talked about the Club, not just because it was a place with their friends and community but also of the guidance they received and the hope they felt. Jane recalls one of them disclosing the Club was their "forever family." Unfortunately, shortly after the competition, Covid-19 entered the community and threatened to close this home-away-from-home for so many children and teens.
Jane doubled-down on her commitment to do whatever it takes to ensure the Club's doors stayed open to provide healthy meals, mentors, and the resources necessary throughout the Covid-19 pandemic and beyond.
Jane's incredible strategic thinking and exceptional leadership, gained from years as an outstanding marketing executive, are demonstrated at every board and committee meeting she attends. Her passion for Bellevue's youth and the Eastside is unmatched and illustrated in her ability to inspire fellow board members and BGCB staff to go the extra mile. Beginning April 2021, Jane's leadership as Board Chair will continue to guide BGCB as we work to expand our reach and deepen our impact.
###
About Boys & Girls Clubs Bellevue
For nearly 70 years, Boys & Girls Clubs of Bellevue (www.bgcbellevue.org) has inspired & enabled all young people, especially those who need us most, to reach their full potential as productive, caring, and responsible citizens. BGCB's 15 Clubhouses provide a safe and fun place for more than 12,000 youth to grow and thrive each year. During critical out-of -school hours, dedicated staff delivers life-enhancing, quality programs focused on academics, health, and leadership. BGCB is doing whatever it takes to ensure all kids in Bellevue have great futures. Learn more on our Facebook page.