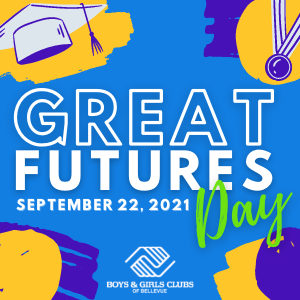 ---
GREAT FUTURES DAY IS
WEDNESDAY, SEPTEMBER 22

This fall, our Clubs are laser-focused on getting kids back on track to their great futures.
The impact felt from COVID-19 on our youth is profound. From reduced peer and leader interactions, limited extra-curricular and socialization opportunities to changes in a parent or caretaker's health, employment status, or housing situation, their lives have been reshaped forever. With financial setbacks continuing to be felt by our community,
we project the number of youth who will qualify for need-based scholarships to double by next year.
As young people seek some sense of normalcy, Club services are needed now more than ever. Bellevue School District reported 100% of students returning to classrooms were exhibiting feelings of disengagement. By providing targeted programs focused on restoring confidence in connecting with others, feeling optimistic and safe, and learning to cope with new adversities, we are ensuring the next generation of Bellevue leaders gets back on track to their great futures.
On September 22, Boys & Girls Clubs of Bellevue's Great Futures Day, you can make a direct impact on thousands of youth across Bellevue. In one day, we hope to raise more than $200,000 to continue to empower and prepare our city's future leaders as they navigate the highly diverse set of challenges the world is presenting them today. Every dollar makes a difference and we hope you will join us with a gift on September 22.
If you have any questions, please don't hesitate to reach out to Maggie Sliney at
msliney@bgcbellevue.org
or 425-777-9123.
Boys & Girls Clubs of Bellevue's Great Futures Day is a one-day unifying fundraising event, which calls on BGCB's community of donors, partners, volunteers, and friends to come together to support BGCB's Clubhouses and raise critical funds for youth we serve.