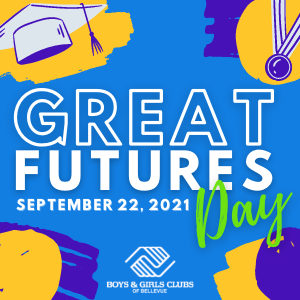 ---
*|MC_PREVIEW_TEXT|*
You make Great Futures possible.
Dear Club family and friends,

Because of you we raised nearly $305,000 - and counting - this Great Futures Day. As coronavirus continues to impact our children and teens, this record-breaking total ensures our 15 Clubs can continue doing whatever it takes to provide the resources and support our youth need to navigate these uncertain times.

Today, your support put the next generation of leaders back on track to their Great Futures while supporting programs focused on restoring confidence in connecting with others, feeling optimistic and safe, and learning to cope with new adversities. Thank you for making this possible.

I hope you join me in being inspired by the ways our community responds to the evolving needs of young people with a collective passion and generosity. Today was truly amazing and I look forward to working together with each of you to carry out Boys & Girls Clubs of Bellevue's important mission.

Thank you again for making a difference today and helping thousands of kids, especially those who need us most, find their path toward realizing their full potential.

With gratitude,


Tim Motts
President/CEO

P.S. Click here to view our Great Futures Day donor wall, you're sure to be inspired by our generous community leaders.
Boys & Girls Clubs of Bellevue's Great Futures Day is a one-day unifying fundraising event, which calls on BGCB's community of donors, partners, volunteers, and friends to come together to support BGCB's Clubhouses and raise critical funds for youth we serve.