---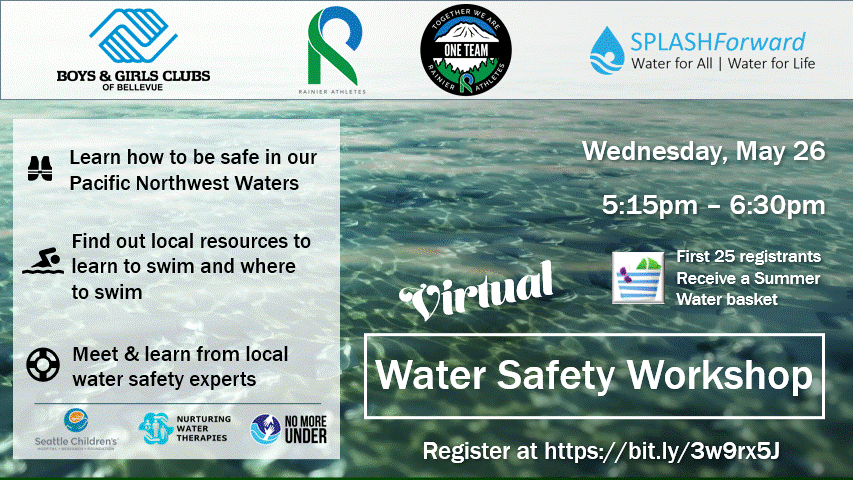 Be prepared for a safe summer of fun in our local waters! Join us on Wednesday, May 26 from 5:15-6:30 p.m., and learn how to be safe in and around our local Pacific Northwest waters from our pools to our waterfront beaches.
RSVP Today >>
Together with Splash Forward and Rainier Athletes, we've assembled a panel of local experts to share water safety best practices, resources for where to learn to swim, and where to find safe places to swim.
Whether you know how to swim or don't know how to swim, this workshop is for you!
We even have a local adaptive swim expert to share water safety tips that apply to our special needs community. There is something for everyone, and we'll leave you with a set of resources you can use to have all the information at your fingertips.
Come prepared to ask questions. After listening to our water safety experts, we'll break out into small groups to hear your questions and discuss water safety.
Register early!
The first 25 registrants will receive a Summer Water Basket filled with gear your family can use when you head to our local waters. Towels, goggles, sunglasses, sunscreen & more!
Event Details
Wednesday, May 26, 2021
5:15-6:30 p.m.

About Boys & Girls Clubs of Bellevue
For nearly 70 years, Boys & Girls Clubs of Bellevue (www.bgcbellevue.org) has inspired & enabled all young people, especially those who need us most, to reach their full potential as productive, caring, and responsible citizens. BGCB's 15 Clubhouses provide a safe and fun place for 13,000 youth to grow and thrive each year. During critical out-of-school hours, dedicated staff delivers life-enhancing, quality programs focused on academics, health, and leadership. BGCB is doing whatever it takes to ensure all kids in Bellevue have great futures. Learn more on our Facebook page.