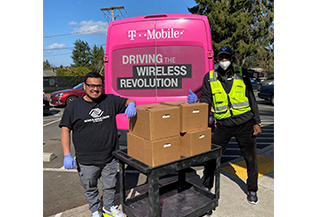 ---
Bellevue resident commits to supporting local resturants. Feeds Children and Families Dinner Daily, Providing 17,000+ Meals Since March
Bellevue, WA - APRIL 30, 2020 - Bellevue residents Dave and Leigh Anne Clark have partnered with Boys & Girls Clubs of Bellevue to provide more than 17,000 meals from Bellevue restaurants to the community since March 30, 2020.
The innovative initiative is two-fold: keep the children and community well-fed with nutritious meals daily while schools are closed, and provide economic stimulus to local businesses and their employees.
"We are so deeply grateful for the Clarks generous contribution to our children and families," said Tim Motts, BGCB President and CEO. "When diseases like Coronavirus COVID-19 enter our communities, the unintended consequences disproportionately affect our most vulnerable community members. This donation ensures the youth we serve, and community at large, have one less hardship during this crisis. Their generosity has already made an immediate impact on so many lives."
Each afternoon, T-Mobile's pink trucks pick up 550+ meals from local businesses, Bis on Main and DELelectable BBQ and Catering and deliver them to six Boys & Girls Clubs sites across Bellevue. Dinner distribution starts at 4 p.m., but you can find families and children lined up as early as 2:30 p.m. to ensure they receive a meal.
In addition to these nightly dinners, Boys & Girls Clubs of Bellevue's COVID-19 Response work includes providing childcare to frontline workers and vulnerable children from 8 a.m—6 p.m Monday—Friday, during which time members are provided with breakfast, lunch, and snacks in partnership with Bellevue School District. Anyone interested in supporting efforts can donate to the Boys & Girls Clubs of Bellevue COVID-19 Relief Fund by going to www.bgcbellevue.org.
###
About Boys & Girls Clubs of Bellevue
For nearly 70 years, Boys & Girls Clubs of Bellevue (www.bgcbellevue.org) has inspired & enabled all young people, especially those who need us most, to reach their full potential as productive, caring, and responsible citizens. BGCB's 15 Clubhouses provide a safe and fun place for 13,000 youth to grow and thrive each year. During critical out-of-school hours, dedicated staff delivers life-enhancing, quality programs focused on academics, health, and leadership. BGCB is doing whatever it takes to ensure all kids in Bellevue have great futures. Learn more on our Facebook page.