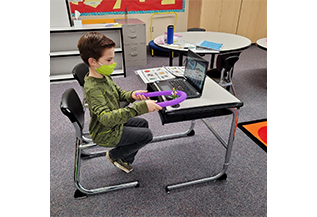 ---

School Sites Reopen and Provide Free Childcare to BSD employees
Bellevue, WA - JAN. 25, 2021 - As the Bellevue School District (BSD) prepares to reopen schools, the Boys & Girls Clubs of Bellevue (BGCB) is offering free childcare to the district's school teachers for the remainder of the school year.
BSD plans to bring students and teachers back into the classroom on January 21, 2021. Teachers will be able to place their children at one of the BGCB locations that will offer full-day remote learning during the staggered school openings.
"We want to offer a safe place for children to go during the day, where they can get help with remote learning, as well as get meals along with social and emotional support," says Tim Motts, CEO of Boys & Girls Clubs of Bellevue. "For Bellevue teachers who are back in the classroom but whose children are not, we are glad we can provide child care at no cost to them."
In addition, BGCB will open all-day remote learning at five additional sites – which b the number of Clubs that are open to eleven. The Clubs are open from 7:30 a.m. to 5:30 p.m. The sites open are:
Schools: Bennett Elementary, Jing Mei, Cherry Crest, Wilburton, Newport Heights
King County House Authority Sites: Spiritwood Manor, Eastside Terrace, Hidden Village
Downtown Clubhouse, Lake Hills Teen Center, South Bellevue Community Center

Motts says the Clubs have been flexible due to the community's changing needs caused by the pandemic and there has been a 97% reduction in program fees due to the changes in programming.
Since pivoting last March to full time childcare BGCB have made major programming changes, including increased hours, acting as remote learning centers and offering meal services, serving more than 60,000 meals to the community. They have also become a greatly needed resource for essential workers on the Eastside.
###
About Boys & Girls Clubs Bellevue
For nearly 70 years, Boys & Girls Clubs of Bellevue (www.bgcbellevue.org) has inspired & enabled all young people, especially those who need us most, to reach their full potential as productive, caring, and responsible citizens. BGCB's 15 Clubhouses provide a safe and fun place for more than 12,000 youth to grow and thrive each year. During critical out-of -school hours, dedicated staff delivers life-enhancing, quality programs focused on academics, health, and leadership. BGCB is doing whatever it takes to ensure all kids in Bellevue have great futures. Learn more on our Facebook page.