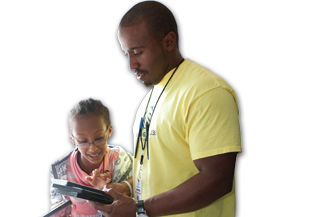 ---
Technology Programs
​​Through our technology programs youth are exposed, every single day, to technology and all it can accomplish. Access to technology is not only found in stand-alone tech and STEM activities, which are delivered every day to every child enrolled in after-school or summer programming - but is integrated throughout our greater program curriculum. Every Project Learn site has computer and high speed internet access as well as designated Tech time, and every Summer Camp site includes several weeks of Tech Camp.
For our teens, our brand new Best Buy Teen Tech Center provides new computers, scanners, printers, and other gear, it also incorporates a "make and do" space for hands-on STEM engineering. With generous support from Best Buy and Microsoft, our teen technology space can now house state-of-the-art programs to get our members excited about STEM and exploring future career opportunities.
Club Tech
Training in a variety of computer skills including Microsoft programs, Kodu and Scratch game applications, and mandatory internet safety training.
A state-of-the-art computer lab open every day after school, either drop in or come to one of our specialized activities! For more information contact Clubhouse Coordinator, Riley Adair.
Digital Arts
Each year youth learn how to create digital art such as digital photography, game design, graphic design, music creation, and movie-making and are entered in a National Boys & Girls Clubs of America Digital Arts Festival.
Lego Robotics
Building functional robotics and using computer skills to manipulate them; solving problems, making connections, and engaging in teamwork.
Summer Tech Camps
Like Podcasts? Let's talk about that! Create your own podcasts and post them on the internet! Learn about what makes an interesting and engaging podcast. Make podcast art and learn about marketing your podcast.
Create original art and study different artistic styles. Create a portfolio of all your illustrated work to show off. Collaborate with other camp members. Develop or further develop your own artistic style. Make comic books and story boards.
Get ready to film! Members will have opportunities to try acting, directing, and editing film projects. Members will have a portfolio of all their different projects and roles they worked on during camp. We will also meet directors and actors virtually
Here comes the music! Members will learn or further develop their knowledge of music composition, mixing and mastering. We will also record vocals and instrumentation, learn playing techniques for keyboard, guitar, bass and drums as well as work with each other to create a portfolio of our work to show off after.
Campers will explore game making, music creation, and coding through staff guided lessons and challenges.
BE EVERYWHERE
Facts about the club:
The Club was one of the first Clubs in the country to include girls!
86% of every dollar raised goes directly to programs for kids!
The Club gives over $700,000 in scholarships to deserving kids each year!
We run the City's only teen center, The Club, that serves hundreds of teens each year.
The Club runs one of the largest athletic programs in the country!
Close to 100% of the students in the The Club's Be Great: Graduate! program are staying at grade level!
Each day, between 800 and 1,000 youth receive homework help, play games, and learn social skills at a Club in Bellevue!
Bellevue runs independently from Boys & Girls Clubs of King County with a separate BGCA Charter!
Boys & Girls Clubs of Belleve continues to be a national leader in the innovation of technology programming for kids!